Our emergency inflating pump has a powerful heart – permanent magnet DC motor, which ensures continuous strong power and relatively low energy consumption. So we must understand the strong advantages of a permanent magnet DC motor.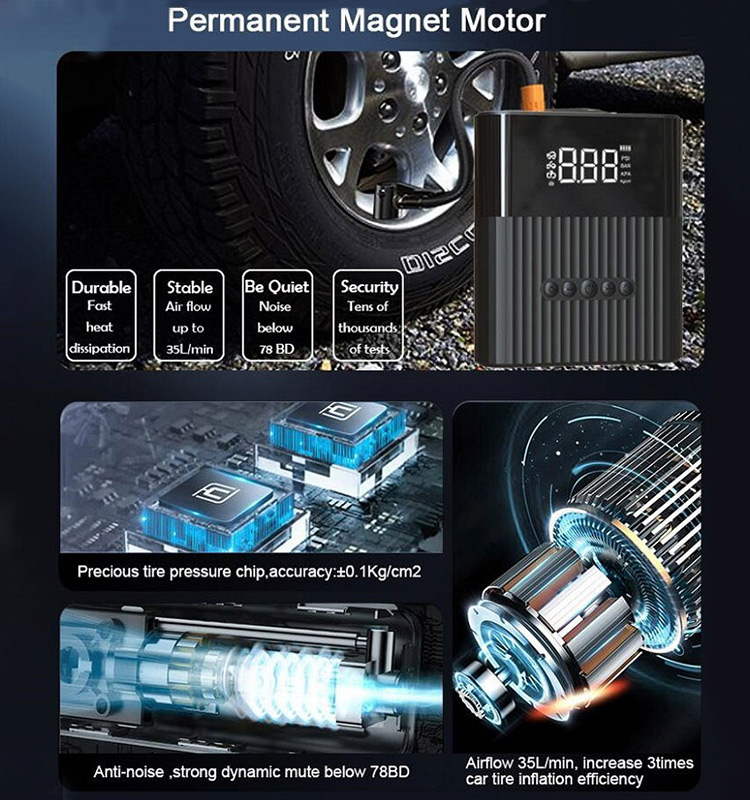 Variable frequency and voltage characteristics
Through variable frequency and voltage, the motor has the characteristics of high efficiency and low power consumption, compared with the traditional AC or DC motor energy saving more than 50%, can be compared with the power detection instrument;
Never burning machine
No brush motor will not wear, soft start soft stop, small starting current, and other advantages, the motor can even idling or in the case of bearing stuck, the motor will not burn machine, compared with ordinary motor longer life;
Wide voltage adaptation
The voltage can be arbitrarily switched without affecting the normal operation of the motor, and can pass the transformer test;
Explosion-proof type
Low-temperature rise, no electric spark phenomenon, can achieve full sealing effect;
Low noise
Motor shock resistance, smooth operation, low noise, small vibration, can be compared by the decibel tester ordinary motor noise, generally less than 70% of the ordinary motor noise;
Compared with traditional motors, permanent magnet brushless DC motors are smaller, lighter, and have more torque.
So, built in such a powerful heart, we do not doubt its perfect performance!